On Monday, hundreds of Scranton Federation of Teachers, Local 1147, members joined with parents, students, school board members, union leaders, clergy and administrators to demand legislators fund Scranton schools adequately and fairly.
Scranton's schoolchildren are being shortchanged – even more than children in other historically under-funded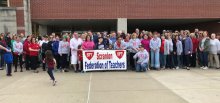 Pennsylvania school districts. Even with a $10.3 million funding bump proposed by Gov. Wolf, Scranton would get just $5,402 per pupil – less funding than any of the eight largest cities in Pennsylvania. (York City Schools, $9,001; Harrisburg $7,408; Pittsburgh $6,292 and even Philadelphia $5,897.)
"If this were a race to the bottom," said Scranton Federation of Teachers President Rosemary Boland, "then Scranton's won it hands down, and that's not the kind of distinction we want for our students or our students."
Sign a petition for adequate and fair funding for Scranton's kids.
Scranton School District is $200 million in debt and has $144 million in unmet capital needs. Unlike many districts, the school-age population is growing. There are more than 10,000 students enrolled this year, 82% of who live in poverty while 40 percent of the city's properties are universities, houses of worship and nonprofits that don't pay taxes.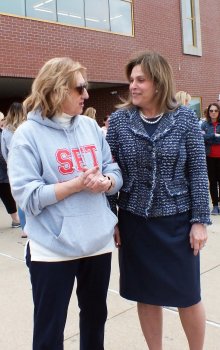 To make matters worse, SFT members have been working without a contract for two years. "Our teachers are actively looking for jobs elsewhere," Boland said. "Their starting pay is $39,000 a year, and without raises or job security, more and more feel they have to leave to provide for their families."
Why no job security? Scranton School District is a state recovery district, and a "recovery plan" is due in May. There's talk of closing six schools, which would leave the entire east side of the city without schools that children can walk to, Boland said. And many of the district's 18 buildings are at capacity now, and no one knows where the children from the closed building will go.
Scranton is just the latest example of why AFT Pennsylvania – and all of its members – need to fights for better, fairer and adequate state education funding. It's why we ask you to call, email and visit state senators and representatives to urge them to increase state funding for public schools and for colleges and universities.
Unfortunately, Scranton isn't an outlier. Pennsylvania ranks 48th in funding for public education and 47th in funding for community colleges and state-supported universities. Wealthier school districts think they're immune, but there are legislators who try every year to abolish property taxes – which sounds great until you realize that property taxes are where most of the state's K-12 education money comes from.
"Today it's Scranton. Tomorrow it's you," Rosemary said. "That's why we all have to mobilize and fight to #FundOurFuture by funding our schools."